I apologize for not having any Valentine-y outfits for you and also not even getting any pictures from my wonderful night out with the man on Valentine's Day but I hope everyone had a great weekend. I know I did. I just hate that I have to go back to reality, especially since school is kinda kicking my ass at the moment. But anyway, enough about that.
So I actually have never done one of these before so I thought why the hell not? It's a "What's In My Bag" post. Maybe it's because it makes more sense when it's on a YouTube video, but I never thought about doing one of these.
I recently posted a photo on Instagram of what's in my bag regularly and it got a good amount of likes (for me anyway) so I decided to just put it on here as a quick little post for you guys.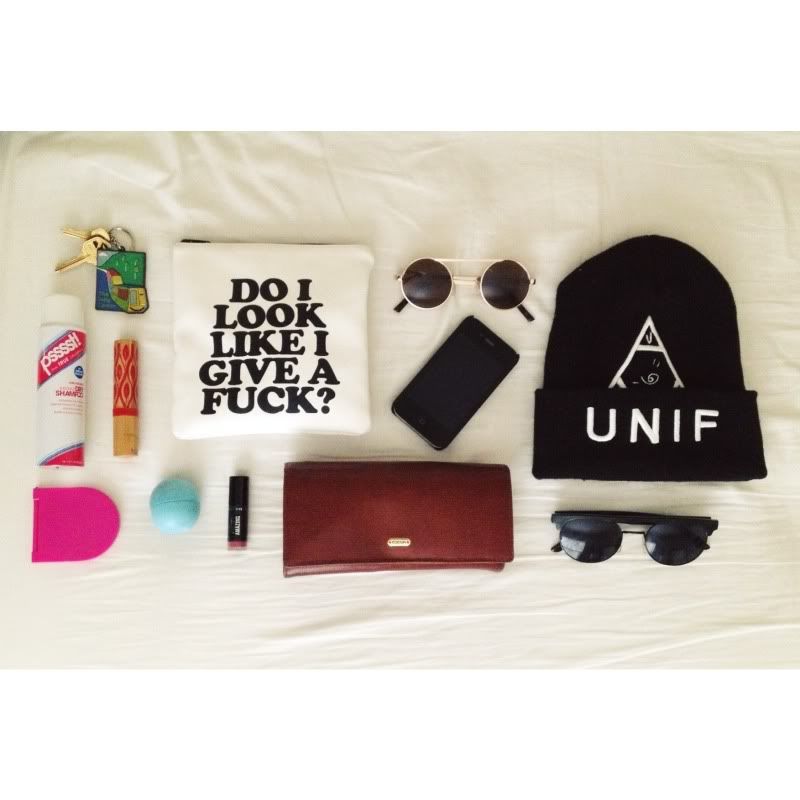 Fortunately I can tell you where I got most of these things:
1. Gold sunnies - Sway Chic
2. Black sunnies - Le Specs
3. Psssst! dry shampoo - Ulta
4. UNIF beanie
5. Tarte lipstick and EOS lip balm - Ulta
Listening to: R U Mine? - Arctic Monkeys
Follow me on my Instagram to see my shenanigans - @queenvictoriareigns