It's always hard deciding on my favorites from Fashion Week. But I did manage to do it.
I know I know, London's done and Milan is happening, I am well aware, but other things needed to be blogged. I am also currently home in Monrovia at the moment so I've been a busy bee.
With that said, here are my faves from NYFW.
Sass & Bide
This show was so polished but also fun and that's really difficult to pull off. I loved the mix of masculine cuts with the feminine details. This was one show that used a lot of white that I actually enjoyed.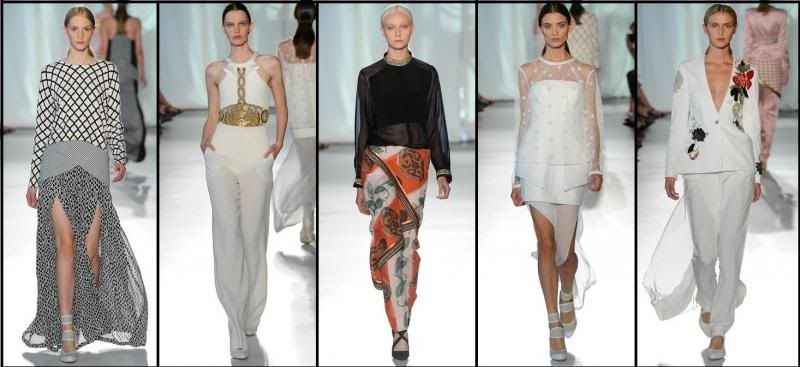 Peter Som
There were so many pieces from this collection that were easy to wear. It wasn't some production but actual clothes that people can buy. The cuts were so fluid it was amazing. A great mix of patterns and fabrics that somehow all worked together.
Altuzarra
Another show that showcased real life wear. This collection made separates sexy even with the random mix of that blue patchwork print and all the fun fringe. And gah that last silver dress, gorge.
Rebecca Minkoff
I love the sporty Frida Kahlo thing that was happening here. Racing stripes and lace? Who woulda thunk? And color. Thank you. Also,
Janelle Monáe, enough said.
Alexander Wang
I wanted sexy sets for spring and these were sexy. I also loved that the colors were muted. There was a lot of white at NYFW and I was getting annoyed by the end. The mens fabric took me by surprise but it was a nice change.
Opening Ceremony
More color yay. For their first runway show, this was pretty epic, straight up street badasses. There was a good mix of high fashion and streetwear and you don't get a lot of that nowadays. It was definitely not the plain whiteness that people were starting to get used to during NYFW. Loved it.
I fell in love with a lot of others, many honorable mentions. Jeremy Scott with the teenage aliens, Steven Alan got me with those reflective sunglasses, and Rodarte is always gorgeous to watch.
A couple things:
I'm currently in LA at the moment so I will try to get you London and Milan Fashion Weeks to you quickly. I might sneak in an outfit post from a couple weeks ago as well.
Another thing, if you don't already know from my Instagram, I chopped all my hair off. It was a pretty spur of the moment decision, but I have been planning on cutting my hair for a while now. Change is good, and there have been some really good changes in my life at the moment. Smiles.
Follow me on my Instagram to see my shenanigans - @queenvictoriareigns