Hi dears!
Fashion Week is making me a little flustered how about you? I feel so behind, I can't imagine actually having to go see the shows (even though that would be amazeballs).
But anyway, behind or not, I still would like you all to see my faves from London Fashion Week because they were perfect.
Topshop Unique
Let's start with the belle of the ball, Topshop. I had two favorite shows and this was one of them. First, the pieces were just totally boss and I want a lot of them for myself. Second, the people who attended this show made me fangirl for days. Third, the soundtrack to the show had this 90s nostalgia, I mean come on. And fourth, Cara Delevingne. Enough said. The pieces were a throwback to Brit pop (fitting) with the patent leather and weird textures. There was a great youthful chic feeling about them which was tough but nice and romantic. Give me everything.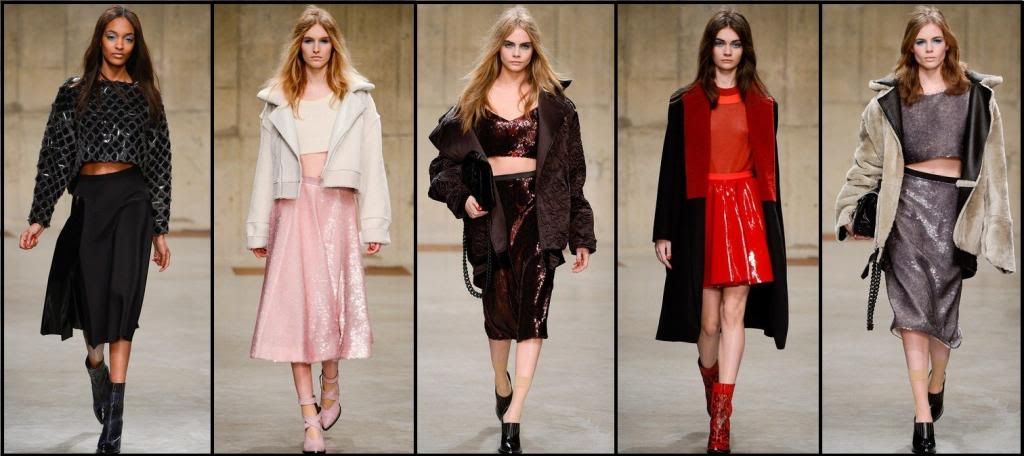 Christopher Kane
This show was absolutely insane in every way possible. An MRI of a human brain printed on shirts, static looking dresses that look like I would get electrocuted if I touched it, I mean it was awesome. There was this gothic, Frankenstein-y feel about the pieces with big shoulders and color choices. If you know me, you know my favorite part of the whole (really long) show was the velvet pieces that appeared. I freaked out and I want them. Oxblood velvet? Yes.
Ashish
If sequins aren't your thing, look away. This collection was banana sandwich, which is very good, just if you didn't know what that means. I fell in love with the slouchy sparkly tough girl look, it was a mix of everything I love to wear. If you don't already know, I am obsessed with sequins and denim so this show was perfect. I went crazy for the all denim outfits and the awesome hologram looks. And that "I'm having a shit day thanks" tee, just oh my god want.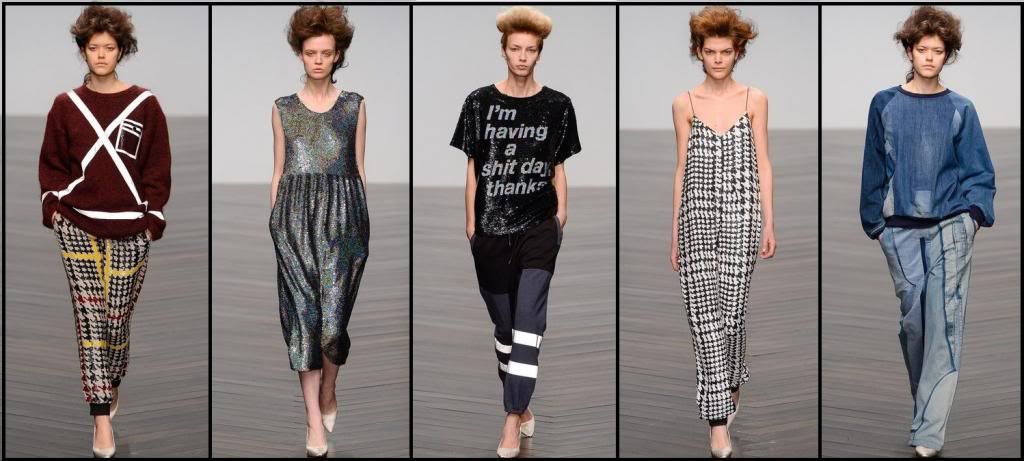 Jean-Pierre Braganza
This was so simple but amazing and strong. I think it gave either a love or hate feeling because it was so out there but of course I loved it because it was insane. It had this sci-fi feel with the prints that were used, I mean they all looked like aliens. When the outfit was sharp, it was super sharp, and when the garment was supposed to flow, it flowed like water and I thought it was phenomenal.
Moschino Cheap and Chic
So this was my other favorite of LFW. I couldn't handle myself with this one. I'm obsessed with everything British so the rise of British punk motif that was seriously screaming at you in this collection made me faint. It was rebellious and rough, but somewhat sweet at the same time with the pink and the leopard and the fur. I feel like people tend to overdo the leopard but this was done really nicely. I also love me some black and white all the time so basically a big yes to this collection.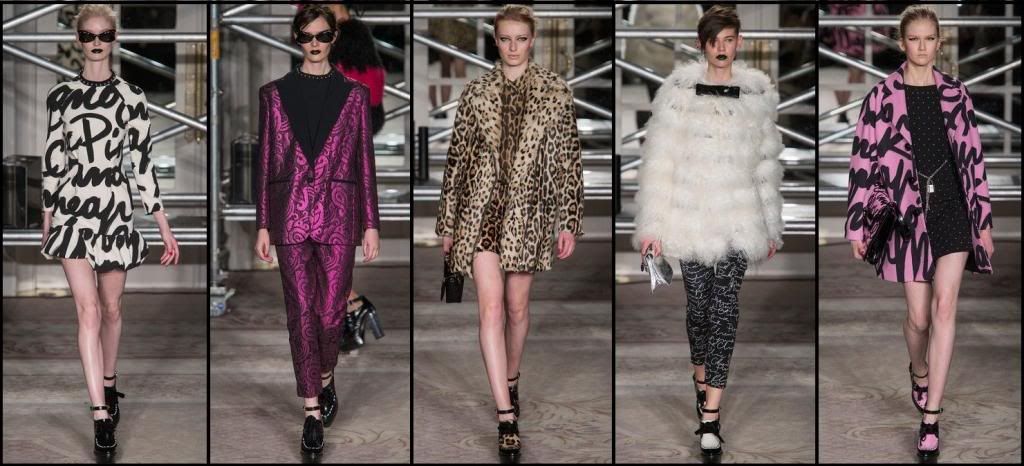 Hope you enjoyed.
Sorry if Fashion Week (or month) is taking me a while to write about. And sorry that I haven't been posting either. I just got a job, finals are coming up, and all that jazz. To see what I'm up to every day, follow me on my Twitter or Instagram.
See you pretties soon. xo
Listening to: Where Are We Now? - David Bowie
Follow me on my Instagram to see my shenanigans - @queenvictoriareigns