I thought I'd finally do my New York Fashion Week round up. I know I'm a little late and even London Fashion Week has come and gone already but it's okay. Better late than never right?
A lot has been going on so I didn't have too much time to blog. My parents came up to visit last week and we had a nice dinner and the next day I went to LA for the weekend (I will blog about that soon). I got my wisdom teeth out which was balls but I'm slowly but surely recovering which is nice. This school week has been stressful as well so I am very happy to say that I finally have a break to chat with you. Smiles.
So I'm very excited to show you my favorite shows from NYFW. It was a tough decision but I hope you all enjoy. I know I did.
Jeremy Scott
Okay call me crazy but this was my favorite show from NYFW. I know right, who knew I liked colors? Lately I've been super into this mix of urban street grungy punk-ness so these looks were right up my alley. I loved the cartoon graphics right away when miss bad bitch Cara Delevingne started the show in this awesome puke-y fantasy two piece. I was greatly confused but so in love with it all. Some pieces I could have done without but that happens with every collection. I felt like Jeremy Scott took a teenage boy's bedroom in the 90's, chewed it up and spitted it out. It was perfectly controlled chaos and just amazeballs. I'm "too weird to live" too, now give me that sweater cool thanks.
Update: It is very unfortunate that certain pieces from his collection have brought attention to the fact that Scott had taken artists' designs without their permission to use them for his clothes. The discourse of fashion is a risky business that we all have come to understand. Fashion ripping off youth culture is not an entirely new concept in this industry which is disappointing but what can you do? Jeremy Scott can only wait for the consuming public's reception of his pieces and see if he has hurt himself with his choices.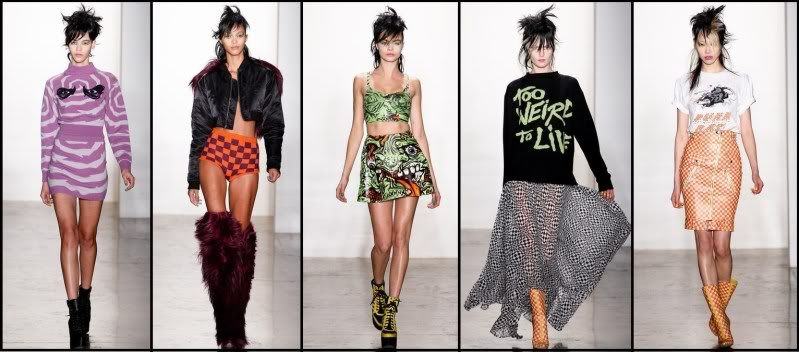 3.1 Phillip Lim
The whole show had this biker babe feel to it which I loved. I thought the show started off a little eh for me, which is not necessarily a bad thing because the looks were gorgeous, but just not for me. I think it was because I wasn't into the colors at the beginning but then they got darker and I was ecstatic. Awesome outerwear really dominated this show, I was really into the half lapel thing that was happening with the coats. I thought every look was polished but rough at the same time which was totally badass.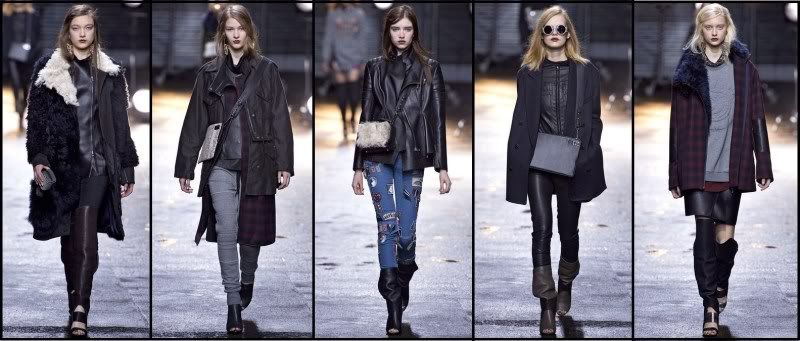 Jonathan Simkhai
I know he's known for his California cool looks, I've seen good ol' KStew wear a couple of his pieces before and I was really surprised that I actually like him. His looks had this sporty tomboy feel which I'm usually opposed to, but I was really into this collection. I love the quirkiness of all of it and the mix of girly and tomboy with the ruffles and athletic sweaters. They're just fun and cool pieces and it was quite a refreshing collection.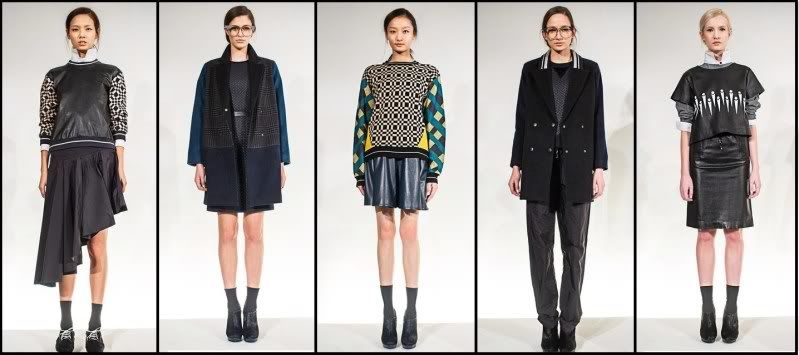 Alice + Olivia
I had such a hard time deciding what looks to choose from this collection. I loved a lot of it which is very rare for me with collections. I felt that there wasn't an obvious cohesiveness between the looks but I ended up loving that aspect of it. There were so many textures used and mixed together, the styling was just perfection. The looks were all so different that there is definitely something for everyone. There was an easy cool about the pieces, I knew if I wore one of them, I'd instantly feel just amazeballs.

This was a close second to Jeremy Scott for me, which is weird because they were nothing alike. Let me just say, Hervé Léger is usually not my style. I mean I would love to rock a body-con dress if I could but I can't but that's my own problem. I was expecting the usual sexy tight bandage dresses, but this collection was that and more, definitely not what I expected. All of the models were covered up but somehow still managed to be sexy as hell. I mean sexy sweatpants? Who would of thunk? And sorry Hervé Léger, you can't add baseball caps and expect to lower your sexy factor, but it's okay, I thank you kindly for that. Absolute love.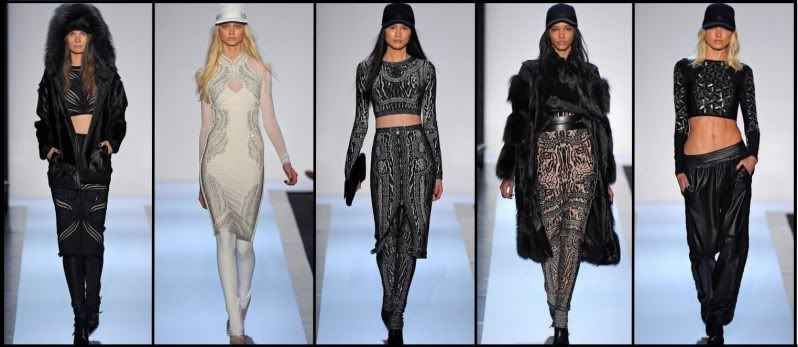 I had a lot of honorable mentions like the gorgeous lavender and prints at Thakoon, the to-die-for quilted pants at Theykens' Theory, and the sexy spies with the all black everything at Kaufmanfranco.
Definitely expect a London Fashion Week favorites post soon. Smiles.
xo
Follow me on my Instagram to see my shenanigans - @queenvictoriareigns