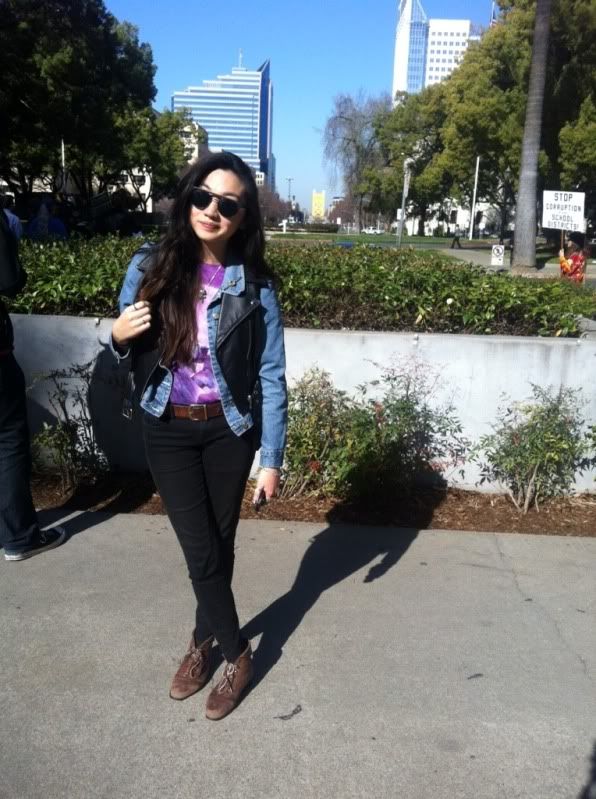 THRIFTED DENIM JACKET - GUESS/ VINTAGE LEATHER VEST, GOLD PIN, BELT AND BOOTS/ WOLF SHIRT - THE MOUNTAIN/ F21 SKINNIES/ LE SPECS SUNGLASSES IN "DIGITAL NOMAD"
So today I went to Sacramento to participate in a march and rally at the Capitol for the effort to refund education, jobs, and a better future for students of California schools.
It was a great experience to be a part of and I'm glad I got to go. We left Santa Cruz at 6:30am and got to Sacramento at around 9am. I had never been so I was excited to see the city. During the rally (under the hot sun), many speeches were made by people, including Gavin Newsom, who people could not stop fawning over. I don't blame them. Smiles.
All in all, it was a great (exhausting) experience. We ate at a cute little cafe and got to explore Sacramento.
By the way, I know the outfit I wore is very similar to the outfit post before this. I told you guys it's what I've been wearing here all the time. But I didn't realize it, so I apologize.
Anyway, sorry this is short. But I had to tell you now, even though I'm absolutely exhausted from all the walking we had to do.
See you all on Wednesday for another Inspiration Wednesday. Smiles.