Thanks to my wonderful computer that functions only when it wants to, my blog posts have been all over the place.
I've been super busy with school which adds to the reasons I haven't been posting a lot. I haven't done Inspiration Wednesday for two weeks now and that is not good. But I hope this Wednesday I can finally post one up for you guys.
For today's post, I decided to just talk about my current loves and favorites and some things that are on my lust list, which is still growing.
Yes. I have become one of those people. And it's great. For those of you who don't know, Instagram is just a way to share photos on your iPhone. It has fun filters to edit your pictures and stuff and I love it. You can follow me if you'd like - @queenvictoriareigns. Smiles.
2. Kate Moss Lipstick Collection for Rimmel London
I recently bought the orange-y toned one on the far right (Veronica did too!) which is called 12. Yeah, they didn't have names. I wish they did because this is such a great collection. Also they're amazingly inexpensive which is also a plus.
During the fall, I ordered a crap ton of studs and I became obsessed. I just finished a little something to wear at midnight for The Hunger Games inspired by the character Seneca Crane (If you don't know who that is, read the book, it'll change your life). This photo is just a sneak peek of it. I'm so excited.
4. Le Specs sunglasses in "Digital Nomad"
I cannot believe I actually won these in a giveaway from Analisa over at Rouge Fox. It's been pretty sunny here so I've been wearing these all the time. However today was not so sunny so it might rain which sucks. But whatever, I'm still in love with these.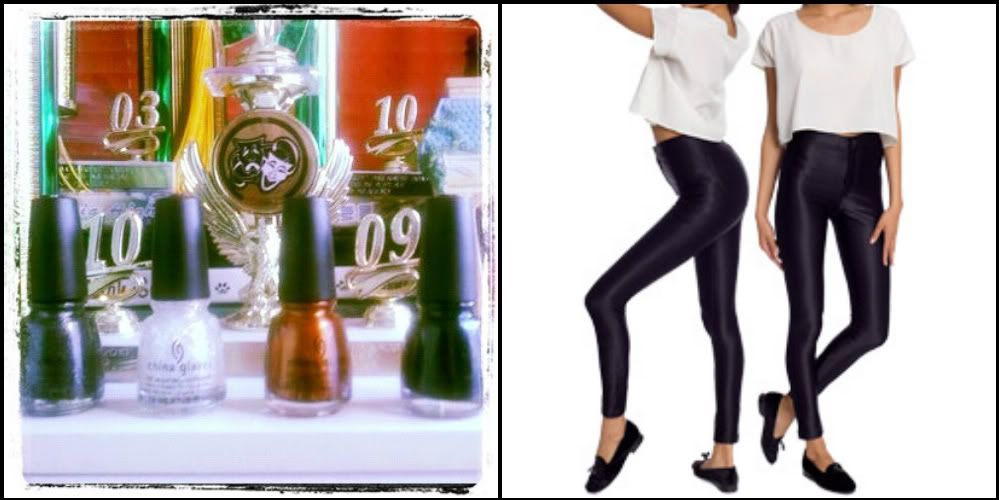 1. The Hunger Games merchandise
Of course I want everything they came out with like the Peeta pillow case, the bookmark, multiple shirts, a mockingjay pin, etc. but I particularly love the China Glaze nail polish collection for The Hunger Games that is out now. Today my mother sent me this picture since she was super awesome and got them for me since there isn't anywhere I can get them here. So excited to wear them. Thanks mom!
2. American Apparel Disco Pants
I swore to myself that I would get these. I've been obsessing over them for a really long time. So it's about time that I get them. They go with basically everything and they're just amazeballs.
So there you go. Hopefully I will see you very soon.