"On October 3rd, he asked me what day it was." - Mean Girls
Yes I just quoted from Mean Girls, but October 3rd means it's bester Jimmy Jam's 20th birthday!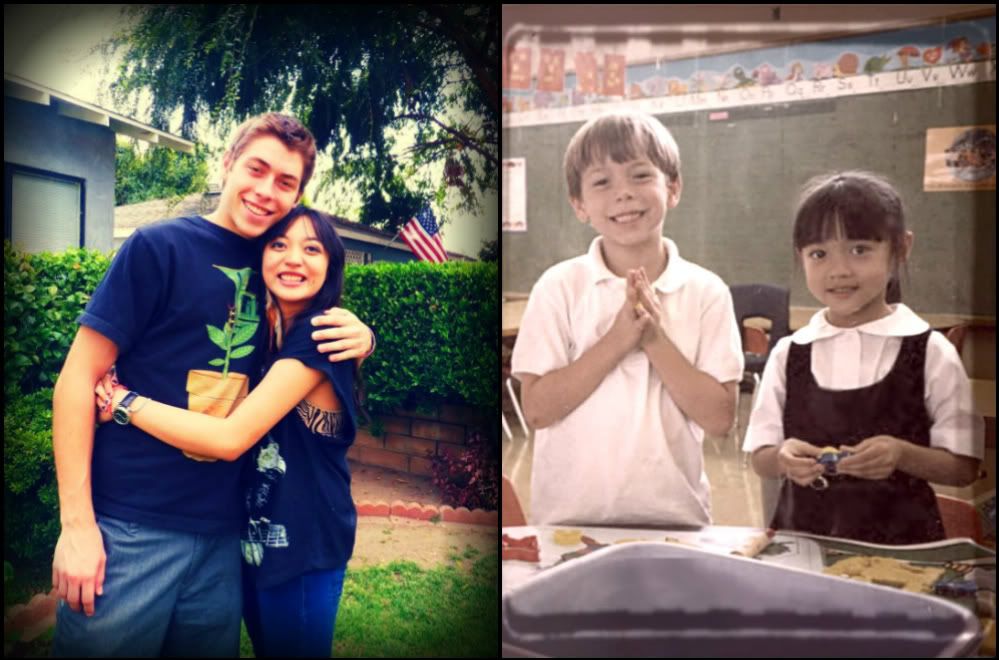 My mom took the new photo a couple weeks ago before I left because I hadn't seen him for a while so we decided to get some Panera (yum) and chat about stuffs and catch up (me wearing a really blah outfit since I wanted to be comf). And the other is of us in kindergarten. I know, aww. I've known that guy since we were little (a really long time, about fourteen years), he's one of my best friends, such a great friend. I hope he has an amazing day. xo
In other news, I don't know if I said this before but my roommate and bester Veronica does make up tutorials and reviews on youtube. The other day she decided that I was going to be in one of her videos and we did a fall nail polish trends video together. I was terrified because I feel that blogging is way different from talking to a camera. And I can perform in front an audience but I can't just talk to a camera. That's her forte. I'll stick with blogging. But anyway, she's really good at what she does, so if you have a youtube account, you should subscribe to her
here
.
And here is our first video together:
Yes, I'm making drunk eyes, but yeah.
Enjoy. She's probably going to make me do some more. Smiles.
Oh and I'll make sure to put up some more outfit posts.
And if you didn't watch the premiere of Dexter tonight, you should.
xx
ANOTHER THING I FORGOT (story time):
A day or so ago, I woke up and checked my blog. To my surprise, I saw that Natalie Suarez from
Natalie Off Duty
commented on my last post and I freaked out. If you don't know who she is, shame on you. She is a big inspiration to me and seeing her comment made me really happy. Anyway. Smiles.
EAGLE SHIRT - URBAN OUTFITTERS/ EARRING - DIY/ JEAN LEGGINGS - AMERICAN EAGLE
In video - THRIFTED BLOUSE/VINTAGE JEWELRY/ MAYBELLINE LIPSTICK IN FIFTH AVE. FUCHSIA