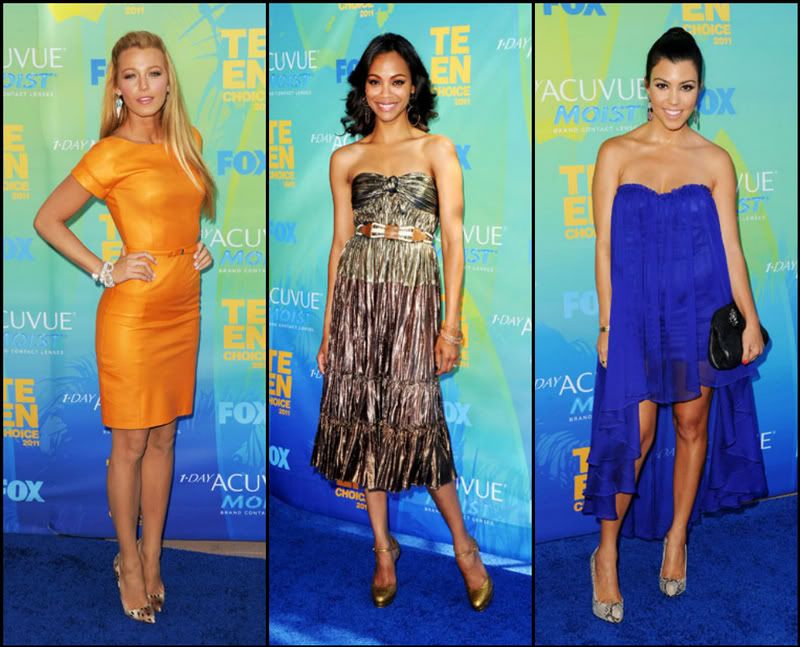 Blake Lively in Gucci/ Zoe Saldana in Lanvin/ Kourtney Kardashian in Blaque Label
Okay so I love watching the Teen Choice Awards. Yes I admit it. I've watched it every year since it began in 1999. I was seven and I wanted to be a teen so badly and now I'm almost leaving my teenage years. So yeah that's a little glimpse into my past.
Anyway, I love the outfits that are worn at the Teen Choice Awards because I think it's a difficult event to dress for since it's not fancy but it's not super casual either. Some people made terrible choices tonight. But some got it right. And when people get it right, I give them major props. Like these lovely ladies. Although I would only wear Zoe and Kourtney's dress, I had to include the beautiful Blake Lively just because she's gorgeous and makes any dress look beautiful.
By the way, yesterday I had a great photoshoot by the lovely bester Rosee Rose. Once I see them and hopefully get copies, I might post some on here.
Smiles.
xo
P.S. If you have followed me from the beginning, you made have noticed I took a small hiatus from blogspot for a while. I still made drafts and what not but I never published them. I sort of had a love/hate relationship with blogging. So I decided I would publish them one by one. I figured it's part of my life, I might as well share it.