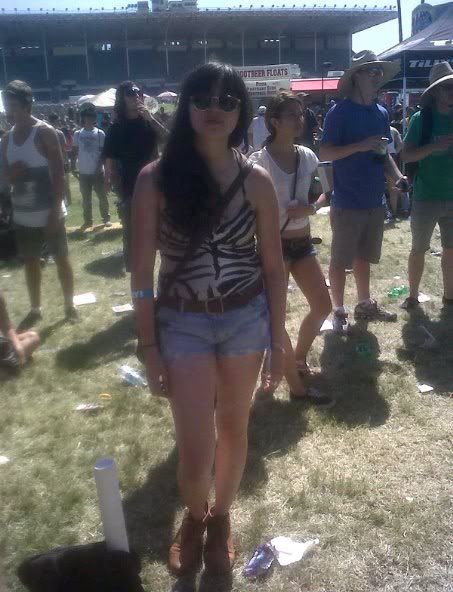 Yesterday I went to Warped Tour in Pomona with Andy. And I was beastly.
I'm absolutely exhausted and still a little (okay, a lot) sore since I got a sunburn from being out in the sun all day and people fell on top of me and I was elbowing bodies everywhere and you know what goes on at Warped. I didn't get as sunburned as Andy though. I felt so bad, for him and myself. But In-N-Out never tasted so good afterward. Smiles.

When I develop the pictures from my film camera I will post them.
I have two words. Simple. Plan. They were my favorite part of the day. Especially their lead singer, Pierre Bouvier. So sexy. I loved all of the bands we saw, even August Burns Red, which is definitely not my type of music. We found a new band that I actually enjoyed by accident called It Boys and I was really happy. Thank you Simple Plan, 3OH!3, It Boys, August Burns Red, Every Avenue, Less Than Jake, and Set Your Goals for a great day.
ONE PIECE SWIMSUIT - H&M/ SHORTS - COTTON ON/ BOOTS - VINTAGE/ BAG - NINE WEST/ VINTAGE SUNGLASSES
Listening to: We Are Young - 3OH!3