Besters in Santa Cruz means a jammin' time.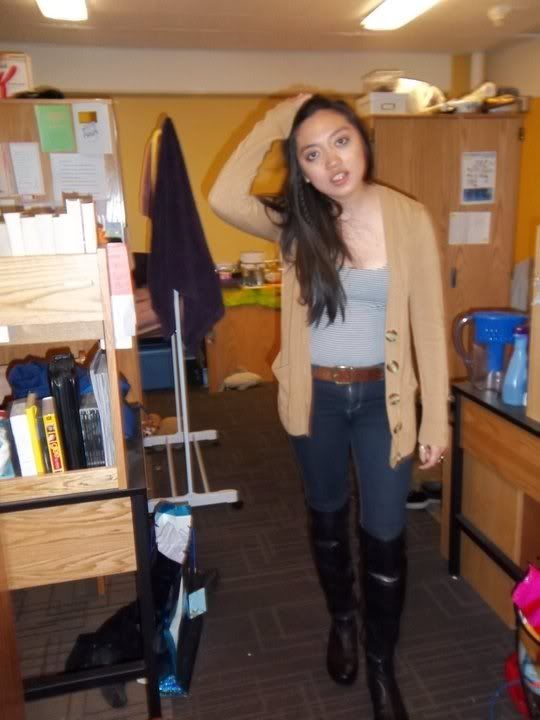 A couple of the besties came to visit me in Santa Cruz this weekend since there was no school today because of Presidents Day. Great weekend to party. And party we did.
They left this morning and I was pretty bummed out. I loved having Monrovia friends and Santa Cruz friends mingle with each other. I was sad that roomie Veronica went to Bakersfield and she didn't get to meet them but it's all good. I have a feeling that she will soon. I didn't get any outfit pictures except that last one and that was only an accident. But you can see some glimpses of what I wore. Being with friends was definitely a cheering up time.
My parents also had their 33rd anniversary this past weekend and I wish I could have celebrated with them. But they have a surprise from me heading their way thanks to Kristen.
I am so glad for this day. It was a great day off. I did some laundry with Shawn and we got some soup at the grocery store and watched some episodes of Buffy the Vampire Slayer. Very good day. Veronica just needs to come back and we'll be complete. She needs to get caught up on some things. Smiles.
VINTAGE TAN CARDIGAN AND BELT/ DIY STRIPED DRESS/ JEANS - F21/ BLACK THIGH HIGH BOOTS - ME TOO
THRIFTED SWEATER/ FLORAL PANTS - F21/ MINNETONKA BOOTS
Listening to:
Be OK - Ingrid Michaelson